Shoe Embellishments

Customers provide the shoes, ( this ensures a perfect fit!) we provide the elegance!! Hand stitched silk ribbon embroidered flowers and pearl beads are added to your shoes.
Send us a fabric swatch and we will do our very best to color match the ribbon used.
We work with new shoes only, no used, antique or vintage shoes please. The cost for embellishment on the shoes is $75.00 per pair plus shipping.
Custom Purses

This is a sample ( this one is not for sale) of a custom purse that can be ordered.
The body of this particular purse is ivory satin and is fully lined with the same fabric. It has all hand stitched silk ribbon flowers, beading, antique lace, and the frame is beaded as well.
Several different options, such as fabric color, frame style, and the amount of
flowers and beading are available to customize your purse to make it
uniquely your own. So contact us today!

Elegant Hair Combs


A beautiful option for your hair, we have available these beaded/flowered hair combs. They measure 7" from tip to tip and it takes two to make a pair. Each rose is hand rolled and they are available in white, ivory, or white/ ivory. The hair combs are $55.00 per pair plus shipping.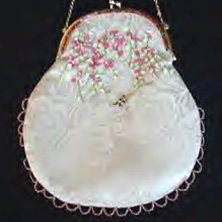 Available Now
Click the link above to visit our pre-made inventory page. This is an area where we will showcase pre-made items available for immediate sale.
If you see something you like contact us quickly to purchase it , as each one is a one-of-a-kind.
If you would like us to make a similar purse with custom colors, please contact us.